Oxford, Strasbourg and my interest in early Christianity
Even though I very much enjoyed teaching archaeology and classics at Oxford for ten years or so, mainly as a tutor – very hands-on and incredibly focused on specific themes- I was fortunate to study in France for my first degree(s). Indeed, there was no such thing as one-2-one tutorials, just huge lecture halls for 500+ anonymous students.
The body of knowledge and the variety I was confronted to was simply extraordinary, ancient and medieval history, Latin, Greek, Akkadian, classical archaeology, Egyptology, near-eastern archaeology… My many interests were fuelled by the constant stream of knowledge and the innumerable hours spent in university libraries until late at night (one of the professors even gave me the keys to the Institute of archaeology so that I could study late).
All this to say that besides my great interest for Greek and Roman archaeology I was also fascinated by other subjects, like the history of Christianity for it permeates our culture, belief system, art, politics and landscape.
I was particularly obsessed with its origins. How did it turn from a conglomerate of confused ideas to a global religion? The University of Strasbourg has a world-famous theology faculty and I was able to acquaint myself with the Greek New Testament, far easier to read than Marcus Aurelius for a burgeoning classicist. Just like Jewish lore, there is so much catholic theology, so many twists and turns in its history, so many decisions that seem at first innocuous but which had tremendous impact on the years to come.
Many years later, I came across a few gnostic amulets and one in particular, an ancient gemstone in the University of Michigan's Library (nowadays the collection of gemstones is in the UM's museum) and it all came flowing back.
I tried to distil some of my ideas and research on the origin of the second great monotheistic religion in The Snake of Babylon.
Some of the Research involved
The amount of research and variety of topics I investigated when writing this book was simply insane but so much fun. Throughout my career as an archaeologist I have had access to so many documents, artefacts and ideas that are unavailable to the general public, so sharing some of the knowledge with the public is a true pleasure.
The key – thanks Sharon (my literary agent) is to research a lot but not talk about EVERYTHING. I selected only a few important ideas which I then developed and wove into the plot.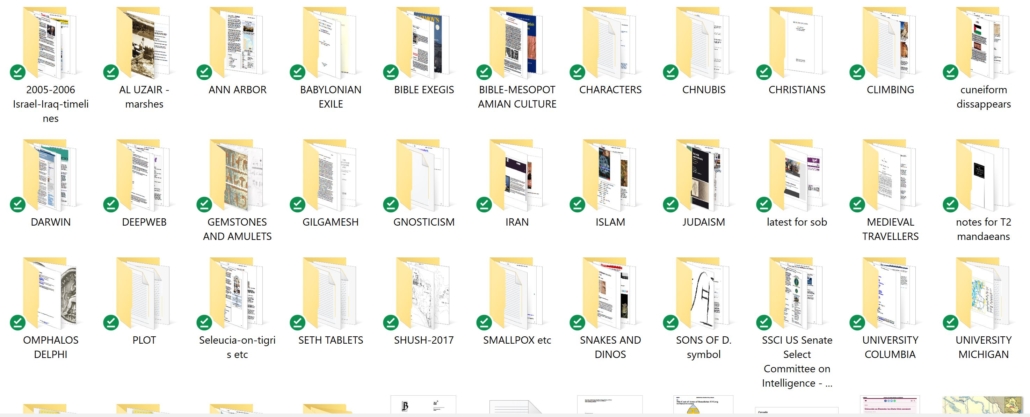 Insane plot… which had to be cut down…