SUMMARY of The snake of Babylon
Iraq, 2006 The war has brought devastation and chaos. A series of unexplained massacres alert American counterintelligence.
Archaeologist Mina Osman and historian Michelle find a mysterious engraving on an old amulet. Their research leads them to the shrines of the prophet Daniel in Iraq. But someone hidden in the shadows is trying to stop them. The heirs of the Holy Inquisition set out to destroy the last remaining rival of the church, an ancient Gnostic sect whose knowledge could undermine the foundations of Catholicism.
In translation
Surprisingly, the Bulgarian translation of the original English text will be the first version to come out in print. I will let you know as soon as the edition princeps, i.e. the English US/UK versions come out.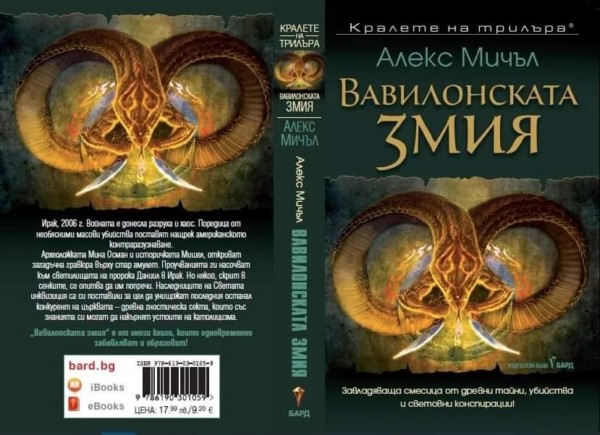 Bard Publishing House (Sofia) is selling 'Вавилонската змия' (The Snake of Babylon) since late November 2021 in Bulgarian.