"Where Liberty goes to die", Alexandre Mitchell, 2022
(Canson, 180g, 42 x 59cm, Indian ink)
---
Since my last visit to Budapest, I have watched from afar how certain freedoms and rights have been slowly eroded within a democratic framework.
Prime minister Viktor Orbán and his political party Fidesz have pushed through the Hungarian parliament a number of legislative amendments to various pre-existing Acts (Child Protection, Family Protection, Media, Public Education) with the aim of curtailing the freedom of the LGBT community in Hungary. The amendments were approved on 15 June 2021, by a 157–1 vote.
Hungary has a very colourful history, and particularly in the last hundred years: the Kingdom of Hungary was a member of the Axis powers during WW2; it was "liberated" by the USSR in 1945 and turned into a socialist state on 20 August 1949 with the establishment of the Hungarian People's Republic. Despite the 1956 failed revolution, the country remained under the communist boot until 1989 when the (3rd) "Hungarian Republic" was established.
What is fascinating about the end of communism in Hungary is that they swiftly removed major sculptures from the public space, Marx, Engels, Lenin, Stalin and many others suddenly vanished. In typical Hungarian humour, a mixture of thoughtful historical awareness and wit the statues found their way into a weird open-air park/cemetery/museum, called Memento Park, specifically designed for this purpose.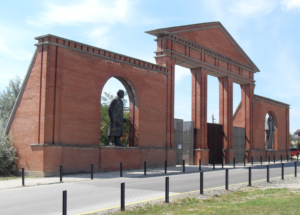 Yet, one sculpture remained in place, because of its iconic status in Budapest's cityscape: a statue of a woman standing on a 26 m pedestal atop Gellért Hill, high above the city, holding a victory palm leaf with outstretched hands.
Sculpted by Zsigmond Kisfaludi Stróbl, The Liberation was first erected in 1947 in remembrance of the Soviet liberation of Hungary. This could not do in post-communist Hungary, so what to do? Would it be sent off to the communist "museum/cemetery"? Unlike the ancient Athenians who were forced to bury all the korai sculptures on the Acropolis that had been defaced or urinated on by the Persians during the first Persian War (a good thing too for us archaeologists…), the authorities in Budapest decided to keep the Liberation statue by renaming it Liberty statue.
In my drawing, Liberty statue has gone to die in Memento Park. Instead of the palm leaf (in fact the sculptor Stróbl was forced by the Soviet authorities to add the palm leaf: he wanted her to hold an infant) I have given her a (green) carnation, one of the more elegant symbols of gay culture since the great Oscar Wilde.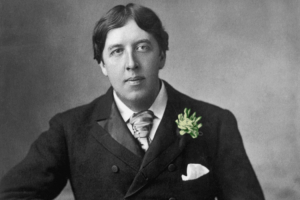 I sincerely feel for the LGBT community in Hungary and their struggle; they're in for the long haul: in April 2022 election, Prime Minister Viktor Orbán won a fourth consecutive term in office. His party, Fidesz, secured another two-thirds majority in parliament. Time will tell.